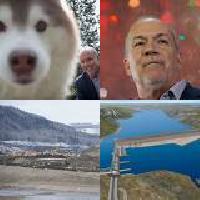 John Horgan urges BC Hydro not to finalize Site C deals
Balmoral residents stormed City Hall, John Horgan told B.C. Hydro to hold off on finalizing Site C contracts
Balmoral residents stormed City Hall, John Horgan told B.C. Hydro to hold off on finalizing Site C contracts, and two B.C. terriers win SPCA courage awards. Here are five things you need to know: Balmoral tenants stage City Hall sit-in. More like sitty …
VICTORIA, B.C. — BC NDP leader John Horgan has written an open letter to BC Hydro CEO Jessica McDonald and Premier Christy Clark, calling for the Crown Corporation to stop the process of evicting residents of the Peace River Valley. In his letter
John Horgan urges BC Hydro not to finalize Site C deals
VANCOUVER - NDP Leader John Horgan has advised BC Hydro not to sign any new contracts on the divisive Site C hydroelectric dam project. The $8.8 billion dam will be the third on the Peace River, flooding an 83-kilometre stretch of valley, and local …
The Site C dam site is seen along the Peace River in Fort St. John on April 18. JONATHAN HAYWARD / In Vaughn Palmer's Thursday column, he detailed how NDP Leader (and perhaps soon-to-be B.C.
BC NDP Leader John Horgan appears to be taking the first steps to
address the controversial
Site C Dam project. He wrote a letter to BC Hydro president Jessica McDonald, urging the corporation not to sign any contracts they can't get out of for free.