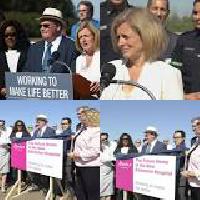 Alberta premier announces new hospital for Edmonton will have up to 500 beds
Premier Rachel Notley announced details Tuesday morning of a new hospital slated for construction in southwest Edmonton.
A new hospital in Edmonton's southwest will be a "state-of-the-art" facility built to hold from 350 to 500 patients, says Alberta Premier Rachel Notley. Notley, Health Minister Sarah Hoffman and Infrastructure Minister Brian Mason announced details of …
Premier Rachel Notley announces $400 million for the development of a new hospital in the city's southwest, along with Infrastructure Minister Brian Mason and Health Minister Sarah Hoffman. Published on Tue May 30 2017 09:52:00
EDMONTON - Alberta Premier Rachel Notley says a new Edmonton hospital will be built in the rapidly expanding southwest part of the city and will have space for up to 500 beds. The plan is for crews to break ground by 2020 and the hospital to open by …
The province released new
details Tuesday about the hospital to open in south Edmonton in 2026. The hospital will be located on a 320-acre site near the corner of Ellerslie Road and 127 Street southwest, the Government of Alberta said in a press release.
Edmontonians awaiting a "desperately needed" new hospital in the city's southwest will have to stay patient for nearly a decade before the new facility opens its doors, provincial leaders said Tuesday. The massive, complex project requires three years …