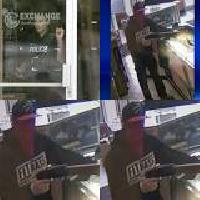 Man With Shotgun Robs Windsor Pawn Shop
There were no injuries during the robbery and the man escaped in a brown SUV headed east.
Windsor police are searching for a suspect after a man held up a pawn shop with a shotgun. It happened at a business on Tecumseh Rd. E near Parkview Ave., at around 1pm on Monday. Police say the male suspect appeared to be armed with a shotgun.
Windsor police officers investigate at the scene of an armed robbery at ABC Exchange Jewellery and Cash in the Eastpark Centre plaza on Tecumseh Rd. East, Monday, June 5, 2017. Dax Melmer / Windsor Star. Windsor police
Windsor police are looking for your help after an armed robbery. Police have released a surveillance picture of the suspect holding a long gun. Officers say the individual walked into ABC Exchange Jewelry and Cash in the 6700 block of Tecumseh Road …
Windsor police are asking the public for help identifying an armed robber who held up a business on Tecumseh Road East. The
man entered the
store near Parkview Avenue around 1 p.m. and "pulled a long gun out of a bag" and made off with a "quantity of